By Natalie B.

Raise Your Voice is a singing group that you can audition for at the beginning of the school year. It consists of about 30 students, all of whom love to sing! The group incorporates choreography into their performances, and we sing around the community. The songs we are singing this year are Candy Cane Lane and Believe from "The Polar Express." We also have an assortment of Christmas carols for when we
go caroling at Autumn House on December 2nd. Miss Perko, the choir director, leads the group and helps us sing to the best of our ability. We practice every Tuesday from 3-4. Occasionally, we practice on day 1's during FLEX. Our rehearsals start with warmups, such as our solfege exercise. We then practice whatever we need to on our main songs, and we sometimes split up into groups based on our voice part (altos, sopranos, and baritones). At this time, we may also practice choreography. Ciera is our choreographer, and she comes in on Mondays during 1st period to teach and help us with the choreography. At the end, if we have time, we will practice our carols. Raise Your Voice is a lot of fun, and you can find us at our first performance, which is the Tree Lighting Ceremony at Springettsbury Township. The event is going to be held on Friday, November 16, at 6pm.

Powered by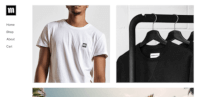 Create your own unique website with customizable templates.